Drilling:Ø 40MM
End mill:Ø32MM
Face mill :Ø76MM
Tapping :M8-M25
6 Steps
50Hz:50~1250 rpm
​
Drilling capacity
Casting
Ø 4mm ~ Ø 40mm
Steel
Ø 4mm ~ Ø >32mm
Tapping capacity

OPTIONAL

M8-M25
End Mill Capacity
Ø 32mm
Face Mill Capacity
Ø< 76mm
Spindle taper
MT3
Spindle speed, rpm
50Hz
50,100,170,370,680,1250
60Hz
60,120,200,450,850,1500
Number of speeds
6 Steps
Throat
275mm
Spindle travel
120mm
Head Tilt
-90° / +45°
Spindle nose to table
580mm
Max. Table Cross Travel
340mm / 0.025mm
Max. vertical travel
210mm / 0.025mm
Column diameter
Ø 115mm
Table size, mm / Max loading weight on table
T 585 × 190mm / 60kg
Number of T-Slots
3
T-Slot width×spaces
T16 × 51mm
Spindle motor
750W (1HP)
Pump motor

OPTIONAL

Voltage
230V / 380V~460V 3Ph
Net weight, Kgs
N.W -325Kg / G.W -360Kg
Machine dimension, mm / (L×W×H)
640 × 680 × 1760 mm
Packing dimension, mm / (L×W×H)
740 × 780 × 1955 mm
Measurement
40 CUFT
Packing cartons per machine
1
Pigment
RAL 6011
Instructions for
Electrical control box
Micro feed handle
Gear drive , lower noise
Draw bar
JSF-400G Head Up & Down vertically
JSF-450G Head Up & Down vertically
450G X/Y/Z Hand Lubrication Pump

(Optional)

450G Rapid feed of Z axis

(Optional)

Milling Chuck

(Optional)

Face Milling Cutter

(Optional)

Keyless chuck

(Optional)

Milling Chuck Kit

(Optional)

52-Psc Steel Clamping Kit (Optional)
K-type Milling Vise

(Optional)

X axis power feed

(Optional)

Ground Paralles

(Optional)

Work Lamp

(Optional)

X/Y/Z 3-axis DRO

(Optional)
1.Available for milling, boring, drilling, tapping and etc.
2. Gear head can be tilted 90° R & L each.
3.Clutch operated micro down feed.
4. The headstock is composed 11 piecisoion of gear (all 2.0mm pitch) and all immersed in oil bath.
5. Available CE standard as fig shows such as:Electrical, control system, cabinet stand, protecting guard.
6. Steel plate machine stand & chip tray. (for 400G / 450G)
7. Z-axis manual memory feed. (for 450G)
Standard Accessories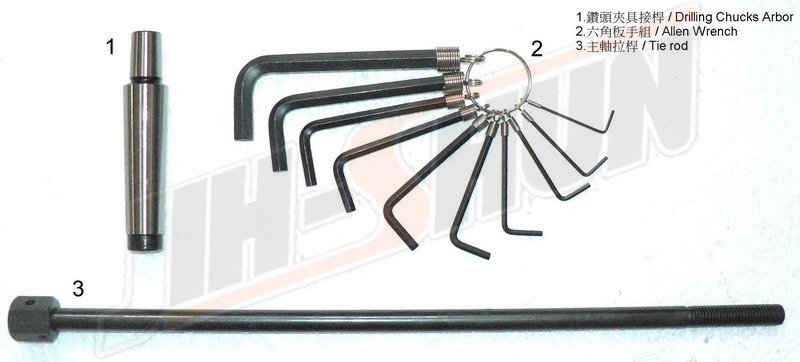 ​